Right now, many families with young children are in need of accessible, high-quality child care. Starting a professional home-based child care business requires more work and planning than just opening your heart and home to children and families, but those are absolutely necessary qualities to have! However, there are many things you should be prepared to do once you begin your journey.
Starting a child care business requires owners to obtain and maintain child care licensure, meet state-regulated health and safety standards, establish sound business practices, maintain a quality early care and learning environment, and focus on continuous quality improvement through ongoing professional development.
Below are some tips to help you get started on your journey to starting a child care business.

Start with a self-readiness assessment
Before making an investment to start a home-based child care business, it's worth doing some reflecting on why. Knowing how you'll answer some of the following questions will not only help you but will also inform those who will be supporting you, financially or otherwise, that you've done your homework.
Some questions to consider:
Do you see yourself as more than just a babysitter? Do you wish to provide a safe, healthy, nurturing, and educational child care program?
Do you have the lifestyle, health, and desire to care for children of different ages for many hours each day?
Is your family supportive of your decision to start a home-based child care? Will they mind potentially sharing space, materials, and/or your time?
Does your home environment allow adequate indoor and outdoor space for child care? Have you determined what areas of your home you will use for the child care?
Do you have good people skills that will allow you to work with different types of families and children?
Do you see your child care as a business that will require good organizational skills and some knowledge of good business practices?
Do you have an educational background or experience caring for children in group care? Do you have an interest in participating in trainings that will help you understand how children learn and develop?
What funds and resources do you have available to cover the start-up costs of your child care business?
Get familiar with the child care needs in your area
There are two main reasons for this. First, it can help inform your desired program structure. Second, it can help you understand where there might be an opportunity for a new program. You can visit the Nebraska Child Care Referral Network or visit the state's child care roster to find out how many licensed child cares are operating in your zip code. The roster will give you an indication of types of programs (centers, FCCI, FCCII, School-Age Only), what age groups programs serve, and days/hours of operation.
Other strategies: Consider new businesses, schools, or housing/apartment developments that are opening up in the area that could bring a new need for more child care. Call area programs and ask about basic demographics or needs they are noticing; talk to families you know in your area about their child care needs and wants. Call or visit the websites of programs located in the area to see what features and benefits they are offering.
Ready the home for child care
Plan your space ahead of time to understand what you'll need to serve future enrolled children.
Determine how much indoor and outdoor space you can accommodate for child care. Nebraska regulations require 35 square feet of indoor activity space per child and 50 square feet of outside play space per child.
Check with your relevant jurisdiction/city zoning department for zoning approval to make sure a child care business can be established in your home.
Make sure your environment meets/can meet the state's required minimum health and safety standards – get a full copy here. Fire safety requirements are also listed.
Consider any potential personal, professional, or legal risks associated with a home-based child care, and purchase the state-required amount of liability insurance.
Licensing made easy. Sign up for the Toolkit!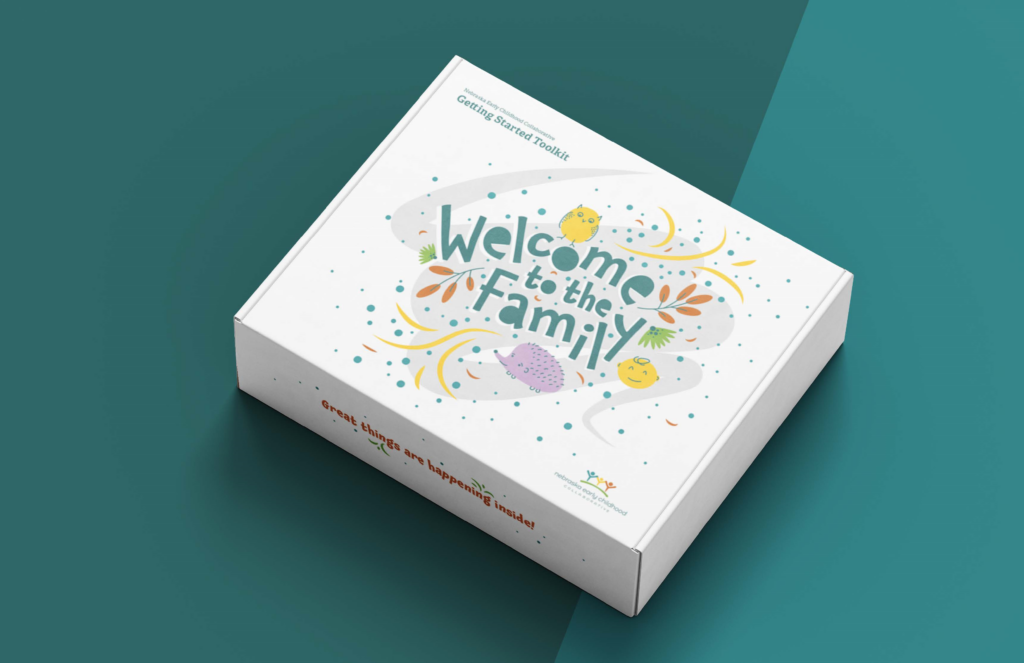 Create a marketing plan
Promotion of your child care business should start before you open to ensure you have children enrolled the day you open your home for care. Marketing a child care business is all about your features and services, pricing, and the promotion of your business – getting the word out there about who you are and what you have to offer families and children!
Strategies to consider:
Define your services

Identify and write why families should choose you to care for their children. Determine how you will communicate that to them.

Create your unique identity

What is your child care philosophy? What features will you have that will benefit the family? Write down all the key features such as: Play-based learning environment, homecooked, all-natural meals, convenient location, more like a family than a classroom, non-conventional hours. Consider the benefits of each of these features. Why is it a benefit to be conveniently located? To serve natural, homecooked food? To be play-based? To be more of a family than a classroom? Having non-conventional hours?

Identify your target customers

Knowing who your potential customers are will allow you to provide services that draw them to your business. For example, if you are located in an area where second and third shifts are more common, perhaps you want to offer non-conventional child care hours to accommodate the families.

Decide how you will tell customers about your business

Flyers, business cards, signs, social media, and word of mouth are all cost-effective ways to market your program. Other strategies: classified ads in publications, online; car magnets, promotional items, participating in community events.
Adopt a mindset of a caregiver, educator and business owner
Being a successful child care business owner requires good organizational skills and being able to take on some small business management tasks.
Some tasks to consider:
Understanding and working with licensing requirements and regulations pertaining to child care
Understanding risk management and being aware of the required professional liability insurance you need
Establishing policies for your program
Advertising and marketing your unique program to gain customers
Writing and keeping a contract
Interacting positively and respectfully with families
Getting involved with the CACFP (food program) for meal planning and reimbursement resources
Get licensed
Nebraska's process for becoming licensed requires completing an application, passing background checks, submitting proof of zoning approval or proof or residency, obtaining liability insurance, developing program policies, including an emergency preparedness plan, participating in licensing and fire inspections, and completing the state-required trainings in family child care orientation, Prepare to Care (health and safety training), and CPR & First Aid.
NECC offers an entire Licensing Toolkit Program that guides providers step-by-step through the licensing journey!
Set up the child care environment to care for children
Once you've established your space, are licensed, and have sound business practices in place with customers ready to enroll, you are almost ready to start your child care business!
You can:
Determine where the children will eat, sleep, and play

What materials will you need for each of these activities?

Purchase the age appropriate toys, learning materials, and child-sized furniture for your child care spaces
Arrange the indoor and outdoor space to best meet the needs of the ages and abilities of the children in your care
Purchase books at garage sales, used book venues, library sales, and thrift stores
Keep health and safety at the forefront of your practices
Create a child-centered daily routine
Plan developmentally appropriate experiences for the children, individualizing for infants and toddlers
Download our guides to high-quality early care and education!
Keep growing as a professional by investing time in professional development
Licensing in Nebraska requires 12 hours of annual continuing education for early childhood professionals. Attending conferences, trainings, workshops in various competency areas, and pursuing higher education are all acceptable ways to earn training credit. Visit the Early Childhood Training Center for more information on how to access training in your area!
A great first step is to participate in NECC's Licensing Toolkit!
Phew, that was a lot of information!
Your journey to starting a child care business won't be easy, but it will be worthwhile. And with a little help, you'll be there in no time!
NECC has an abundance of resources, support, and more to help child care providers become the high-quality early care and education program they strive for. If you're interested in learning more about getting licensed, joining our Family Child Care Network, or accessing other resources, visit our Family Child Care Educators page.

Resources: