Our Parent Ambassadors program gives parents and child care providers of early learners the tools they need to advocate for meaningful, lasting change in early childhood education policy. In this series, we're highlighting our inaugural cohort of 2022 Parent Ambassadors. Get to know them!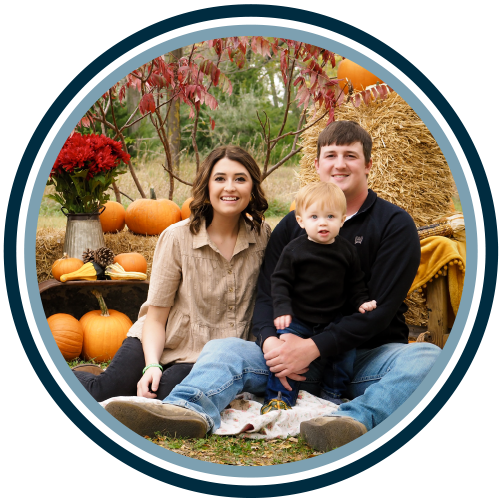 Tana Eddy
Mother of one

Favorite sports team: Huskers and Kansas City Chiefs

Enjoys going on walks, hanging out with family, and cooking
---
Favorite Quote:
"It is the sweet, simple things of life which are the real ones after all."
---
Tell us about yourself!
I am from a small town in south-central Nebraska and currently work at my local child care center. I have been at the child care center for almost 7 years, and during that time I have achieved my associates degree in Early Childhood Development and Education! This last year I also became a mother to a sweet little boy and my life has been a whirl wind since then of exciting new milestones! I have also recently been accepted to be a part of the Nebraska Association for Infant Mental Health program. Early Childhood has always been such a big part of who I am and it has only grown since having my son! I can't wait to see what the future has in store, and I can't wait to begin this ambassadorship.
What made you want to become a Parent Ambassador?
I have always had a passion for early childhood, and have always enjoyed following all the social media accounts! I like to stay up to date on what's going on within the early childhood development/education area. I first heard about the Parent Ambassadors through the Nebraska Early Childhood Collaborative Facebook page. I looked more into the program and read about how it could be a huge advantage for our state. Becoming an Ambassador sounded like the perfect way for me to learn more, express my own thoughts, and learn how to be the best advocate I can be.
What do you see as the greatest need for your community?
My community is really starting to expand especially in the last few years, which is great! However, the need for child care is higher than ever. We only have one center and with limited space and staff, they can only take care of so many children. The greatest need in our community, which I believe is the biggest need in most communities, is child care.
What do you hope to accomplish during your Ambassadorship? 
I believe one of the biggest issues we are facing early childhood wise and something I worry about as a parent is the child care industry. There are so many unknowns about child care, and it's honestly frightening. I don't think people truly understand all that goes into keeping a center running and up to code on all the state requirements. The child care field is struggling, and we have seen this firsthand right here in Nebraska ever since the pandemic. It seems like child care center after child care center is closing and it's primarily due to no staff.
We all know that the most important years in development take place in those first few years of life, so the biggest question we should be asking is why aren't those first few years taken more seriously? Why are early childhood teachers one of the lowest-paid workers, when they are doing one of the most important jobs? Do all our child care state requirements actually help or do they do more damage?
During my Ambassadorship, I plan to learn as much as I can and to hopefully find new ways to help the early childhood field, which is a backbone to our economy.
Who or what inspires you?
My children and my future. I think anyone could have the life that they desire, it just takes some inspiration. My children are the best thing I could've been blessed with and they inspire me to do and be better.