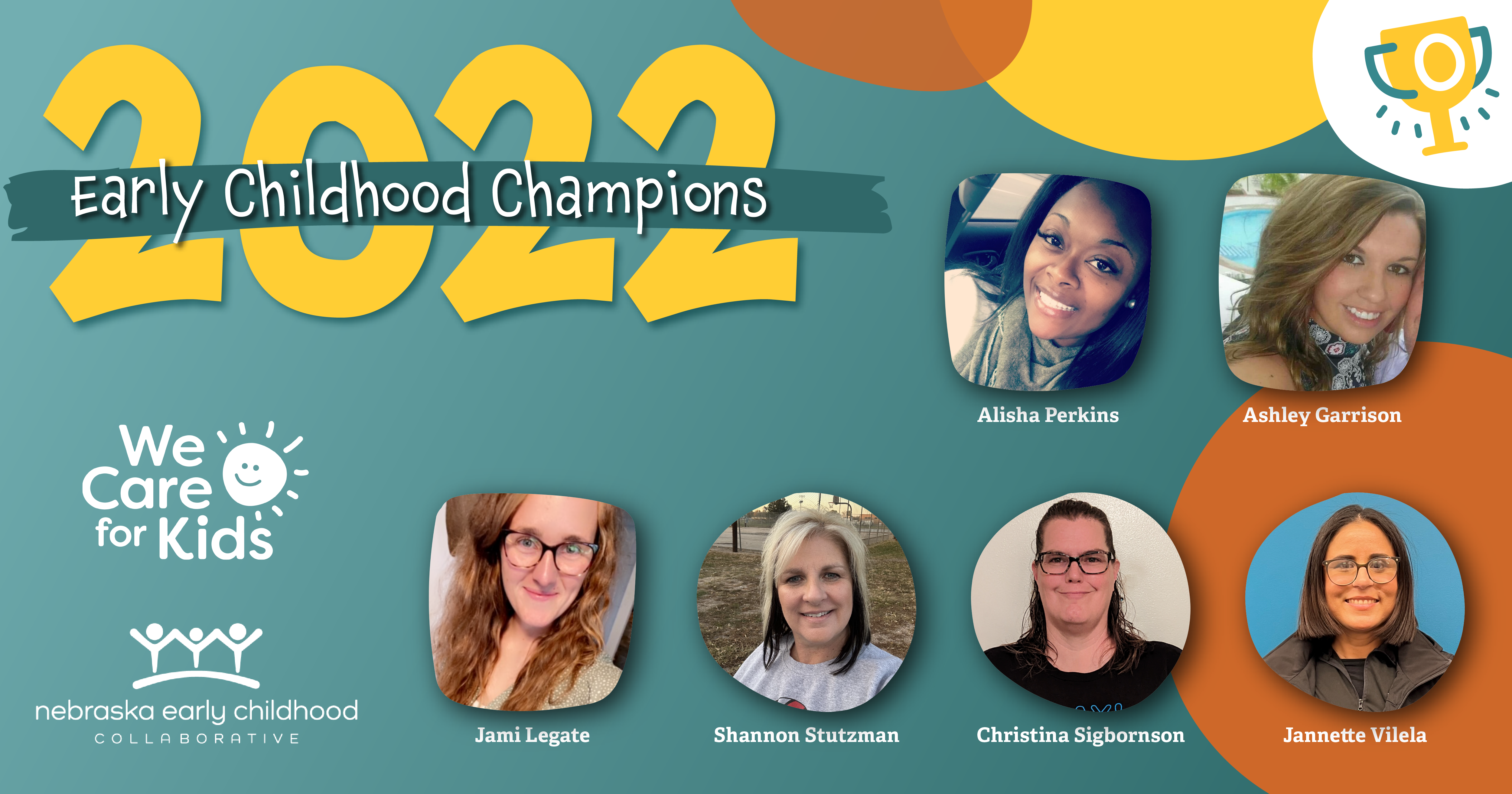 The Nebraska Early Childhood Collaborative (NECC), in partnership with the We Care for Kids campaign, has concluded a year-long effort that has recognized 24 outstanding members of the early childhood workforce across Nebraska. The exceptional work of these early childhood educators was recognized with the Early Childhood Champion Award, which publicly honored each individual with a plaque and a $1,000 gift.
Quality early childhood educators are essential for helping Nebraska thrive. We Care for Kids states, "More than three-fourths of children under the age of six live in homes where adults work." Working families rely on early childhood educators to extend the nurturing care, development, and learning that are essential to proper development.
Despite the critical demand for early learning, Nebraska needs more early educators statewide. Access to quality early education is necessary for children to properly develop cognitive and non-cognitive abilities. The Buffet Early Childhood Institute states, "Early learning has been linked to progress in school, increased earnings, and reductions in anti-social behavior, welfare participation, and trouble with the law."
Severe statewide staffing shortages leave parents needing more reliable care for their young children. Recent statewide research documents the strain faced by early childhood providers and the extreme difficulty of retaining and recruiting early childhood educators.
The field of Early Childhood Education, but infant care and education in particular, is so important for determining a child's success later in life… Receiving this award is humbling, but also very exciting! It means that the community I live in and serve understands and recognizes the importance of high quality early care.

Hilary Bergers, May 2023 Early Childhood Champion
Nebraska thrives with the success of the early childhood workforce. Considering this, the Early Childhood Champion Award was created to acknowledge the essential role of early educators. This award honored early educators' impact on the well-being of young children and their families, the community, and the economy.
For Nebraska to prosper, greater access to quality and reliable child care must be provided. The Early Childhood Champion Award has recognized the following early childhood professionals who have contributed to the overall success of Nebraska:
• Alisha Perkins | Omaha
• Ashley Garrison | Beatrice
• Jannette Vilela | Omaha
• Shannon Stutzman | Columbus
• Christina Sigbornson | Omaha
• Jami Legate | Norfolk
• Angie Kaup | Hooper
• Bonita Sims | Omaha
• Yai Johnson | Omaha
• Jennifer Baumann | Chadron
• Carime Ruvalcaba | Grand Island
• Kayla Neumann | Omaha
• Dina S. Nared | Omaha
• Sara Stevenson | Burwell
• Hilary Bergers | Omaha
• Heather Schmidt | Broken Bow
• Elysia Beck | Omaha
• Alicia Lopez | Columbus
• Ana Yumul | Omaha
• Christina Crawford | Falls City
• Tasha McNeil | Omaha
• Amber Hosch | Blair
• Amanda Wemhoff | Columbus
• Megan Orr | Omaha