NECC is pleased to announce that we have launched the third cohort of our Parent Ambassador program. Twenty-five diverse Nebraskans have been chosen for the Class of 2024 out of over 70 applicants.
"I am beyond excited to announce our third cohort of Parent Ambassadors and welcome all 25 participants to the PA Family!" said Ilissa Talkington, Program Director. "Each year, we add to the vast knowledge and experience that our Nebraska parents and early educators bring to the table. As we continue to support the development of parent leaders, we have witnessed individual growth and the power of grassroots advocacy. The momentum that previous classes have started continues to advance with each next wave of Parent Ambassadors, and I'm so excited to see what the 2022 and 2023 Alumni will be able to accomplish together with the next class as they raise their authentic voices to make changes in our state."
As part of the program, Parent Ambassadors will spend the upcoming year learning about the legislative process, engaging with policymakers, networking with local and statewide early childhood organization leaders, and collaborating with each other. After researching successful Parent Ambassador programs in five other states, NECC's program was re-envisioned to include child care providers as participants.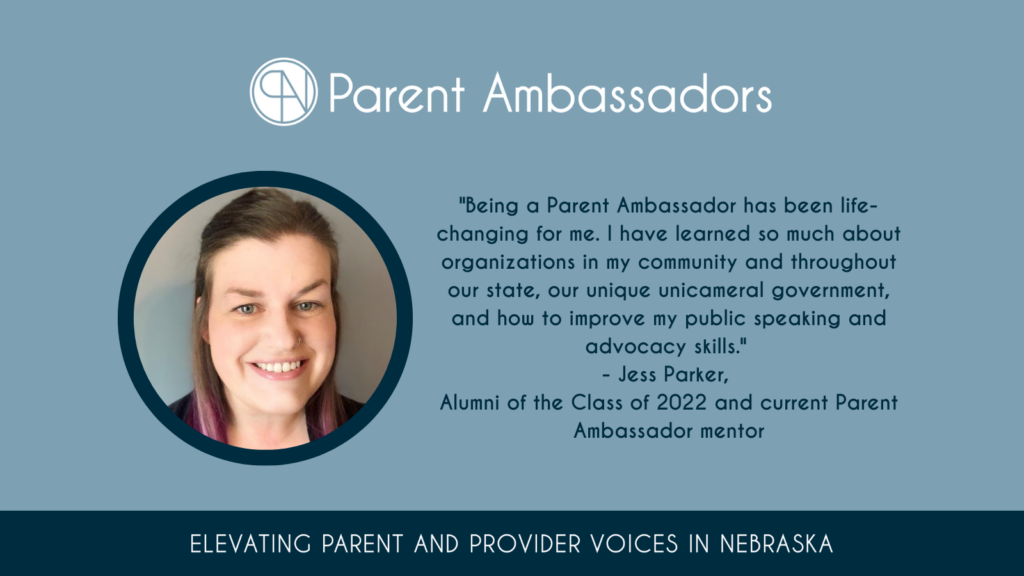 At the end of September, the newest class of Parent Ambassadors gathered in Omaha for their first conference. Through the program, Ambassadors will be introduced to opportunities to engage in Nebraska's legislative session.
"Supporting and developing the advocacy skills of parents and providers is a cornerstone of their ambassadorship," said Talkington. "Many decisions made during the legislative session directly impact the families in our state, and Parent Ambassadors are able to provide critical insight on how these decisions could impact parents with young children."
The majority of graduated Parent Ambassadors reported that as a direct result of the program, they had thought about or taken steps to make changes in their personal lives, such as furthering their education, changing/advancing their careers, or making changes in their emotional, social, or physical health. Furthermore, parents reported an increased sense of community, leadership opportunities, and peer connections because of the Parent Ambassador program.
Members of the 2024 Class of Parent Ambassadors include:
• Apollonia Grandi-Avina, Omaha
• April Caples, Lincoln
• Bethany Gerdes, Kenesaw
• Breanna Young, Omaha
• Claudia Ramos, Lexington
• Dawn Fusselman, Omaha
• Esmelda Amarante, Lexington
• Glendy Vega, Grand Island
• Hannah Fern, Bellevue
• Holly Hoeppner, Hartington
• Jodi Chapek, Weston
• Jordan Wintz, Pierce
• Liliana Martinez, Lincoln
• Lindsey Jurgensen, Omaha
• Mahdi Hassan, Omaha
• Makaela Clemons, Omaha
• Meghan Moore, Omaha
• Nicole Tooker, Lincoln
• Nisha Davis, Omaha
• Portia Reams, Omaha
• Shavette Giddins, Omaha
• Stacie Lada, Tecumseh
• Tiffiani Awortwi, Omaha
• Tiffany Luna, Minden
• Vicki Chandler-Smith, Grant