A career in early childhood education can be extremely rewarding. If you're entering the field or trying to advance your career in child care, consider earning your Childhood Development Associate. The Child Development Associate (CDA) credential is the most widely recognized in the field of early childhood. NECC's Coaching to Completion model will help increase your career opportunities, accrue in-service credit hours, and improve your skills. Discover everything there is to know about earning your CDA! 
What is a CDA credential?
A CDA credential, awarded by the Council for Professional Recognition, recognizes early childhood educators for their skills, knowledge, and abilities in caring for children under the age of 5. The CDA credential can be an excellent way for early childhood educators and child care professionals to grow their skills, learn more about early childhood development, and gain experience in their field. Getting your certificate can take less time than an associate's degree! 
You earn your CDA by:
Obtaining 120 hours of qualified professional development (60 hours needed before beginning NECC's CDA Program)
Completing a Professional Portfolio
Passing the Child Development Associate exam
Completing a Verification Visit
With your CDA, you will experience many rewards:
Knowledge: This credential helps you learn more about developmentally appropriate practices for children and how to encourage them.
Career Advancement: Earning a CDA credential can qualify you for promotions within your early childhood education career.
Confidence: This credential may help you feel more comfortable working with children.
Commitment to Quality: Earning your CDA is a great way to show parents and families that you're an informed provider committed to quality.
Still interested? Review NECC's CDA Program eligibility requirements.
Obtain your high school diploma or GED.
Gain 480 hours of experience working with children in a licensed setting.
Complete 60 hours of training in the CDA subject areas. (Log your training hours here!)
Be currently working in a licensed Early Childhood setting.
NECC's CDA Program will walk you through every step of earning your CDA and ensure you are prepared for success!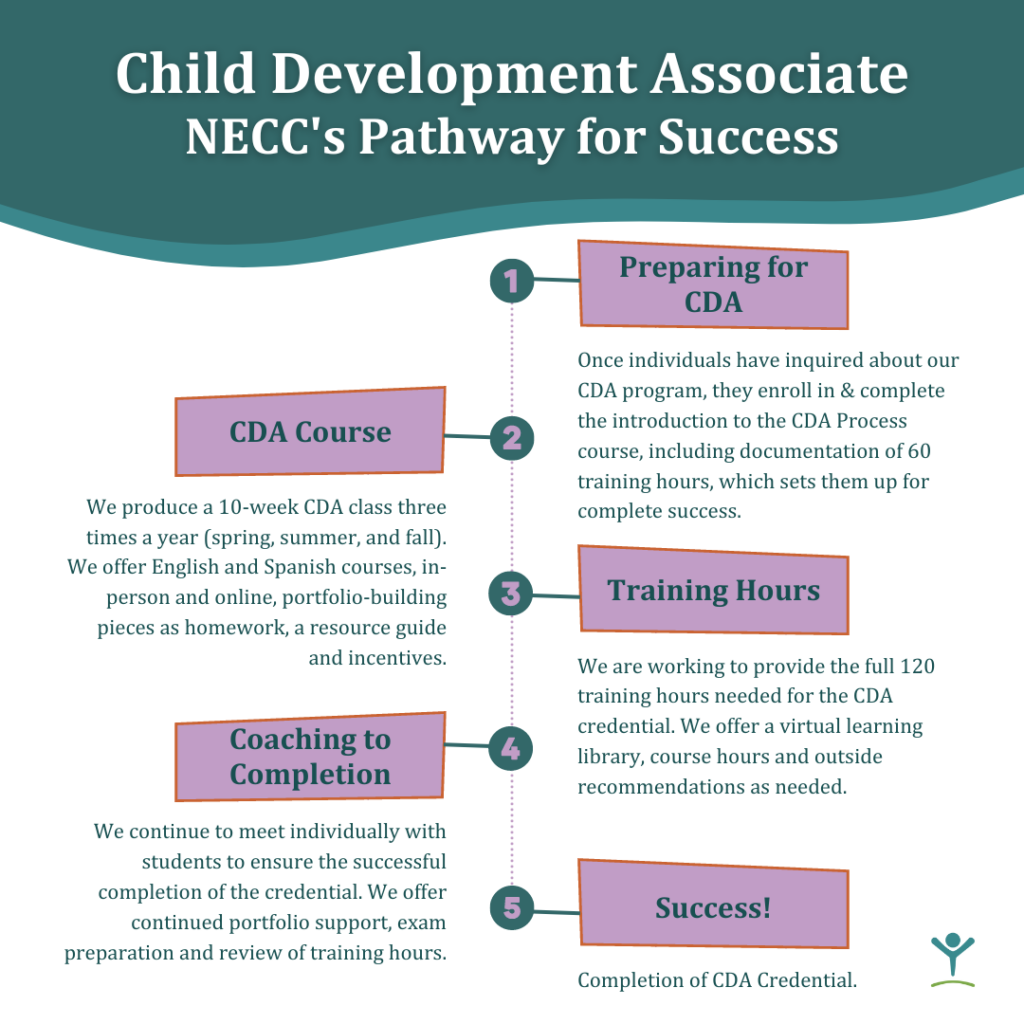 Ready to earn your CDA?
Helpful Links: