NECC's Child Care Network has served more than 600 educators across Nebraska to help build their business practices and increase the quality of their interactions with children as they engage in one or more network program components. In November 2022, a survey was sent out to Network participants who, in the last two years had participated in one or more program components. The purpose was to obtain their feedback on the degree they were satisfied with the program, the extent the program helped them with their business practices, their ability to obtain licensure, and to improve their interactions with children in their programs.
Below are highlights from the Child Care Network Biannual Report!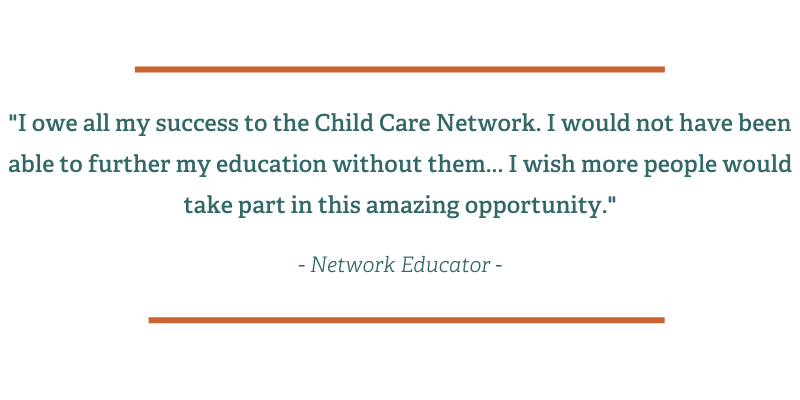 What services did the Child Care Network provide?
The Child Care Network has multiple program components that focus on educational and networking opportunities for child care educators. These components address both content related to business practices and engaging children in high-quality interactions. Child Care educators who enroll in the Child Care Network participate in one or more of the following components based on their individual needs and interests.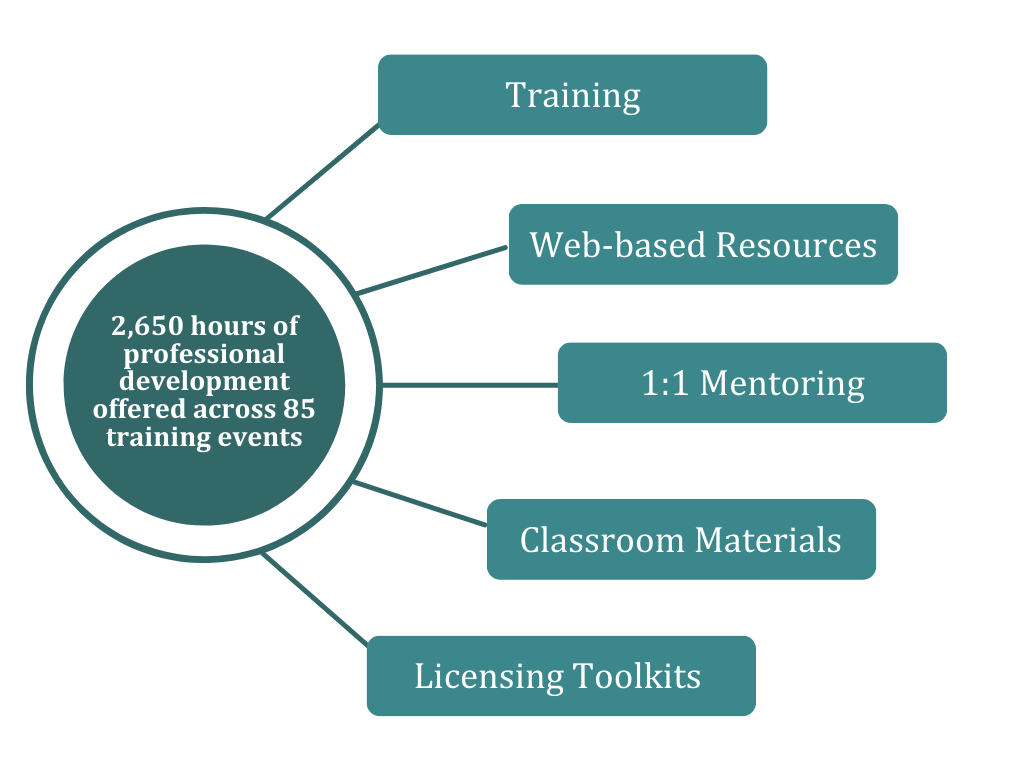 Did Child Care Network activities make a difference?
The Child Care Network was seen as a valued program.
Over 90% of the educators reported the activities were helpful and supported them in their job.
"Very accommodating."
"Time-saving."
"Learned new ideas and strategies to help my program."
"More comfortable with technology."
"Helped me meet my goals."

– Child Care Network users
The Network has a statewide presence with 52% of educators living in rural communities.
The Child Care Network improved educator's business practices.
Over 90% of the educators reported the Child Care Network helped them:
Improve business practices
Continue their business
Set goals
"The online platform allowed me to go from all the old school paper forms and payments to my clients being able to autopay, and to be kept up to date on their child's day while they are still at work. Overall, I have saved so much time, [encountered] less stress, and allowed for running my child care seamlessly."

– Child Care Network Member
The Child Care Network improved educators' instructional practices.
Over 95% of the educators reported the Child Care Network helped them:
Address children's behavior concerns
Engage children in learning activities
Create safer learning environments
152 educators completed the CDA prep training, which increased their skills in engaging with children in their care.
Learn more about the Child Care Network